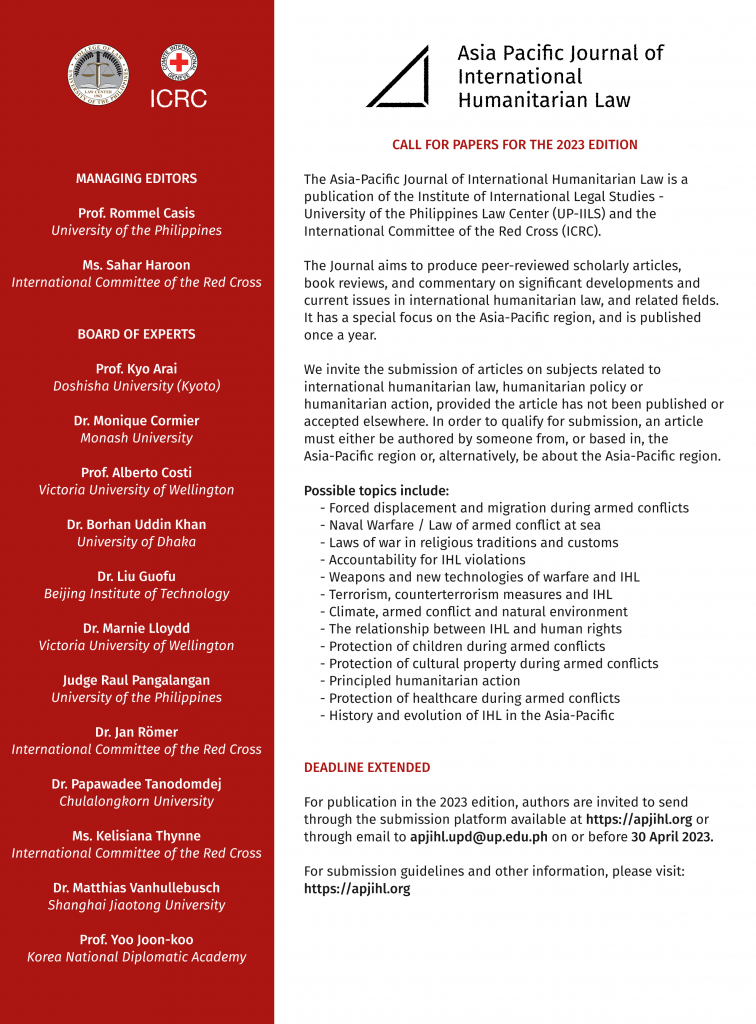 The Asia-Pacific Journal of International Humanitarian Law is a publication of the Institute of International Legal Studies University of the Philippines Law Center (UP-IILS) and the International Committee of the Red Cross (ICRC).
The Journal aims to produce peer-reviewed scholarly articles, book reviews, and commentary on significant developments and current issues in international humanitarian law, and related fields. It has a special focus on the Asia-Pacific region, and is published once a year.
We invite the submission of articles on subjects related to international humanitarian law, humanitarian policy or humanitarian action, provided the article has not been published or accepted elsewhere. In order to qualify for submission, an article must either be authored by someone from, or based in, the Asia-Pacific region or, alternatively, be about the Asia-Pacific region.
Possible topics include:
Forced displacement and migration during armed conflicts

Naval Warfare / Law of armed conflict at sea

Laws of war in religious traditions and customs

Accountability for IHL violations

Weapons and new technologies of warfare and IHL

Terrorism, counterterrorism measures and IHL

Climate, armed conflict and natural environment

The relationship between IHL and human rights

Protection of children during armed conflicts

Protection of cultural property during armed conflicts

Principled humanitarian action

Protection of healthcare during armed conflicts

History and evolution of IHL in the Asia-Pacific
For publication in the 2022 edition, authors are invited to send through the submission platform available at apjihl.org or through email to apjihl.upd@up.edu.ph on or before 31 March 2023.
For submission guidelines and other information, please visit: apjihl.org
The Asia-Pacific Journal of International Humanitarian Law 2022 Edition is now available here.